Pharmaceutical grade fish oil, what is it?
Pharmaceutical grade fish oil is a new highly purified fish oil is that is more concentrated, free of dangerous toxins, and has been clinically tested. Because of it's higher potency and purity results are achieved that are not possible with cod liver oil or typical health food fish oils. Compared to lower grade oils pharmaceutical fish oil is 2-3 times as potent and 100's of times more pure.
How can you determine if a fish oil is really pharmacetuical grade? Some manufactures claim their product is pharmaceutical grade because it is manufactured in an FDA certified facility. Others base the claim on the purity of the oil, however, in most cases you have to take their word for it. The International Fish Oil Standard (IFOS) is administered by a third party independent laboratory that is not in the fish oil manufacturing or selling business. They have by far the strictest testing and requirements to qualify as pharmaceutical grade fish oil and they publish the 5 star fish oil test results on the internet for everyone to see. The requirements include containing more than 60% total long-chain omega-3 fatty acids DHA and EPA combined, containing less than 45 ppb PCB's, dioxin and furan less than 1 ppt, oxidation less than 19.5 meq/kg, and passing all the requirements of the less strict CRN and World Health Organization (WHO) requirements. This means that the oil is high potency based on the EPA and DHA content, is fresh with very little oxidation and has had impurities such as PCB's and mercury removed. IFOS criteria are strict and can be considered the "gold standard". The refining process necessary to produce pharmaceutical grade fish oil is very extensive and expensive. Typical health food store fish oil's and cod liver oil are not pharmaceutical grade, have a lower potency and may contain impurites.
Additional information about fish oil purity can be found on the web at Nutrasource Diagnostics, Inc. They publish the actual test results for every batch that meets their top 5 star rating right on the website.


Why take pharmaceutical fish oil?
Prior to recent times our ancestors consumed food containing many times as much healthy omega-3 fatty acids as we do today. The omega-3 fatty acids in fish oil are EPA and DHA. Scientific evidence reveals a diet rich in long chain omega-3 fatty acids helps support a healthy brain, a healthy heart, a healthy immune system, healthy joint movement, healthy kidneys, balanced mood and sense of well being, strength and stamina* and helps maintain, cholesterol levels that are already within the normal range.
Unlike lower grade fish oils pharmaceutical fish oil tastes relatively good and rarely causes any gastric upset even with high doses. In addition it contains 2-3 times the omega-3 fatty acids so it is possible to consume a much higher dose and get better results. Typical health food fish oil and cod liver oil often contain toxins and rancid lipids. That is why the lower grade oils taste like dead fish and cause many people to feel nauseated or develop an upset stomach after taking to much. They are reacting to the contaminants in the oil.
What about eating more fish? You would have to consume a lot of fish every day to obtain the same omega-3's as in a relatively small dose of pharmaceutical grade fish oil. Also many fish contain mercury, PCB's, dioxin and other toxins. This isn't to suggest you shouldn't eat fish, but, not in huge quantity.
How much fish oil should you take?
It is recommended that most people take about 2.5 grams of the omega 3 fatty acids EPA and DHA from fish oil per day. That is typically 3 or 4 capsules or one teaspoon of liquid fish oil. Children over 4 years of age can take the same amount as adults, however, it is best to give young or small children liquid since the capsules may be to big for them to swallow. For children under 4 years of age consult your doctor.
Pharmaceutical grade fish oil product review summary
Life's Abundance Sealogix™, Omegabrite™, and Nordic Naturals™ ProOmega are all high quality pharmaceutical grade fish oils with different ratios of the important omega-3 fatty acids EPA and DHA. Life's Abundance Sea Logix™ fish oil has an EPA:DHA ratio of 2:1 with 400 mg EPA and 200 mg DHA per 1000 mg capsule. Omegabrite™ is mostly EPA with an EPA:DHA ratio of 7:1 with 300 mg EPA and 50 mg DHA per 500 mg capsule. Nordic Naturals™ ProOmega has the least EPA with an EPA:DHA ratio of 1.4:1 with 350 mg EPA and 250 mg DHA per 1000 mg capsule. In addition Sealogic is the ethyl ester form of fish oil and Nordic Naturals is the triglyceride form. You can study the scientific literature to decide about the merits of the different formulations.

Liquid:
45 teaspoons / bottle
1.8 grams of EPA and 0.9 grams of DHA / teaspoon
EPA:DHA ratio 2:1
1 1/2 month supply (based on 2.7 grams omega-3 / day)

Capsules:
120 capsules / bottle
400 mg of EPA and 200 mg of DHA / 1000 mg capsule
EPA:DHA ratio 2:1
1 month supply (based on 2.5 grams EPA & DHA / day)

Website:
Sealogix fish oil
Life's Abundance Sealogix™ fish oils are very high quality and meets the "gold standard" requirements for pharmaceutical grade fish oil. It is cost effective based on the price per gram of omega-3 fatty acids. One bottle of capsules contains 120 gel-caps with 1000 mg of fish oil and one bottle of liquid contains 8 oz of fish oil. The recommended usage is 4 capsules or 1 teaspoon of liquid per day. Based on that one bottle of capsules is a 1 month supply and one bottle of fish oil liquid is a 1 1/2 months supply. There is a 30 day money back guarantee on Sealogix™. The product may be purchased at a 20% discount by signing up for autoship.
Pharmaceutical grade fish oil is one of the most important nutritional supplement you can take. The benefits will be even greater if consumption of high omega-6 oils (soy oil, corn oil, safflower oil, etc.) and hydrogenated oils is reduced at the same time. Sealogix™ was formulated with a 2:1 ratio of EPA to DHA because that was close to the ratio used in many of the scientific studies that produced significant results. Sealogix is produced by Life's Abundance.
Sealogix™ Fish Oil is manufactured using a true molecular distillation process to assure removal of man made pollutants such as PCB's, dioxins and mercury. A rigorous analysis and certification is made of each batch by an Independent Lab (NutraSource Diagnostics, Inc.) so the product will produce the most omega 3 fish oil benefits.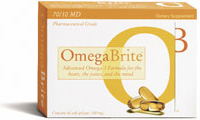 Capsules:
60 softgels / bottle
350 mg EPA and 50 mg DHA / 500 mg softgel
EPA:DHA ratio 7:1
20 day supply (based on 1.2 grams EPA & DHA / day)

Website:
Click here for Omegabrite.com
Omegabrite™ products are distributed by Omegabrite™ in Waltham, MA. They promote a program that is explained in detail in the book The Omega-3 Connection by Andrew Stoll, M.D. Omegabrite™ is a true pharmaceutical grade fish oil based on the highest standards. The softgels are 500 mg with each containing 350 mg of EPA. The biggest difference between Omegabrite™ and other pharmaceutical grade fish oils is that Omegabrite™ is composed almost entirely of EPA leaving out most of the DHA that is naturally found in fish oil before it is processed. Dr. Stoll believes that a higher EPA content is better. The recommended usage is 3 capsules per day, although, some people take more. Consult your doctor for further information. Omegabrite may be purchased from the company website, by phone or FAX.



Capsules:
60 soft gels / bottle
350 mg of EPA and 250 mg of DHA / 1000 mg soft gel
EPA:DHA ratio 1.4:1
15 day supply (based on 2.4 grams EPA & DHA / day)

Website:
Click here for NordicNaturals.com
Nordic Naturals fish oils are very high quality, however, most are not high potency. If you purchase their fish oil be sure and buy ProOmega or Ultimate Omega soft gels. Those contain the same total quantity per capsule of omega-3 fatty acids as Life's Abundance Sealogix™. The difference is that Nordic Naturals™ contains more DHA with an EPA:DHA ratio of 1.4:. Based on taking 4 capsules per day (2.5 g omega-3 fatty acids EPA & DHA/day) a 60 capsule bottle will last for about 15 days.
Nordic Naturals™ manufactures all products in Norway. Their products are pharmaceutical grade fish oil based on a quality level that exceeds both the Norwegian Medicinal and European Pharmacopoeia Standards. Their products are molecularly distilled utilizing the latest distillation technology and this process guarantees the removal of potential heavy metals (lead, mercury, etc.), PCB, and dioxins. Low heat and ultra short residence time is used during the distillation process to ensure positively no damage to the oil. A final enzyme process is applied to ensure a burp free product. They also utilize a proprietary nitrogen environment to achieve industry leading freshness levels.



Capsules:
60 or 120 extra large softgels / bottle
490 mg EPA and 244 mg DHA / 1200 mg softgel
EPA:DHA ratio 2:1
15 - 30 day supply depending upon bottle size

Website:
Click here for RenewLife.com
Renew Life™ is best known for it's digestive products which are very high quality. They now offer a line of fish oils of which the Norwegian Gold Critical Omega is the best all around fish oil supplement. It has the best balance between EPA and DHA for everyday use. They also make the very expensive Norwegian Gold Super Critial Omega which is over 95% omegas mostly composed of EPA as well as several other fish oils that are high in EPA or DHA. Renew Life™ fish oils have an enteric coating to reduce burping. Generally this is not needed with pharmaceutical quality fish oils, however their website contains feedback from some of their customers that they had burping anyway so the coating may not be very effective. These supplements are available in many health food stores and on the internet directly from the manufacturer or many independent reseller websites. As with all the other products reviewed here this fish oil and other versions have been tested by IFOS and found to be pharmaceutical grade.



Capsules:
60 softgels / bottle
439 mg EPA and 216 mg DHA / 1000 mg softgel
EPA:DHA ratio 2:1
15 day supply

Website:
Click here for Barleans.com
Barleans™ started out as a major manufacturer of flax oil. That is a vegetarian source of omega-3 fatty acids without any of the important EPA and DHA which are needed by the body to make any signigicant quantity of anti-inflamatory prostaglandins. Now Barleans offers several pharmaceutical quality fish oils, however, if you buy this brand be sure and get one of those listed below and not one of the lower quality fish oils. Barleans Ultra EPA DHA capsules contain fish oil in the triglyceride form with the details listed above. They also make Ultra EPA a triglyceride fish oil that contains 60 capsules of 1000 mg each with about 55% EPA and 5% DHA. For those that want a high DHA fish oil they make Ultra DHA a triglyceride form that contains 60 capsules of 1000 mg each with about 50% DHA and 10% DHA. They also make an ultra high potency fish oil called Ideal Omega 3 with 30 orange flavored ethyl ester 1250 mg capsules containing about 60% EPA and 20% DHA. Barleans is known to have a reputation for producing high quality products and based on the IFOS tests these all do well. The main concern is that there is only one test listed for each product with the exception of Ideal Omega 3 which has only two tests listed. It is best for a fish oil manufacturer to have every single batch of each product tested and listed on the IFOS website.


Lower Quality Fish Oils
There are many fish oils that claim to be pharmaceutical grade or that claim to be very pure based on an 'official standard' or 'no detectable' toxins. These claims are not regulated so any fish oil manufacturer can say almost anything about their product. Since the International Fish Oil Standard is administered by a third party lab that is not in the fish oil business it is one of the few sources of objective information. Since they publish on their website all the 5 Star fish oils that gives a level playing field for fish oil manufactures to prove that their product really is pharmaceutical grade. If you don't see a companies fish oil on the IFOS website rated as 5 stars you have to wonder why.


Statements on this website have not been evaluated by the Food and Drug Administration and are not intended to diagnose, treat, cure or prevent any disease.